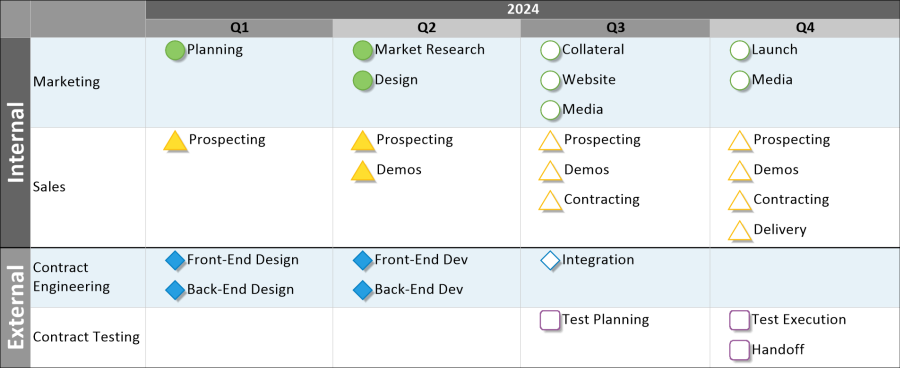 Download Quarterly Task Grid as PDF

Download Quarterly Task Grid as Image
OnePager Quarterly Task Grid Features
This task grid uses:
Tasks that are automatically assigned a unique color and shape for each team.
Nested swimlanes that are grouped first by internal vs. external and then by the specific team.
Tracking of completed tasks, which are shown in a solid color vs. incomplete tasks which are shown with an outline.
Years and quarters on the time axis for high-level tracking, as opposed to worrying about precise dates.
This quarterly task grid was created using OnePager Express project timeline software, using data imported from Microsoft Excel.
To learn more about OnePager, and see how it can help you with your own project timelines, get started today by downloading a free trial.
15-Day
Free Trial
Sample Files
This quarterly task grid was created using the following files, available in both Excel and Microsoft Project formats, which you can download to create something similar for your own team:
For Excel users:
Instructions
To build an Quarterly Task Grid like the example above, follow these instructions:
Download the set of sample files from above. There is an Excel file with a list of the tasks themselves, plus a OnePager template to control all of your formatting. Save both files to your desktop.

Open the task list in Excel.

Once the task list is open, go to Add-Ins and click the OnePager button.

On the OnePager start screen, click NEW to build a new timeline.

We need to change OnePager's default template to the one downloaded above. To do this, click on Change, and then BROWSE FILES to the OnePager template (*.tat) file. This OnePager template contains all of the data-driven formatting (styles, layout, etc.) that give this timeline the look that you see above.
Once the custom OnePager template is selected, click on Create New Chart to build your task board. It should match the example at the top of this article.
15-Day
Free Trial