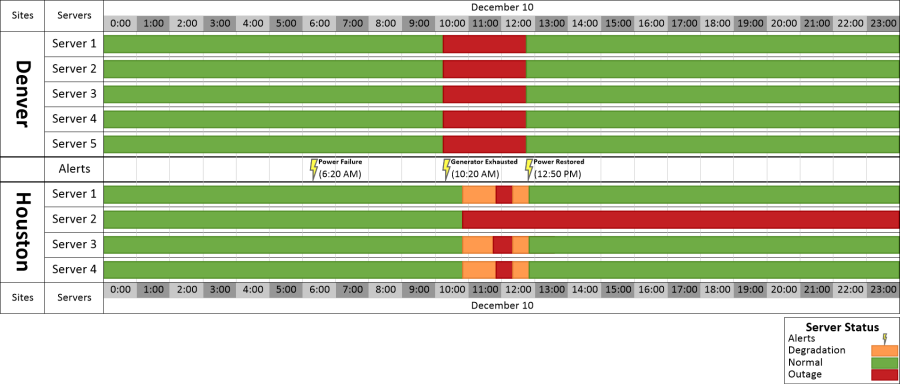 Download Server Outage Timeline as PDF

Download Server Outage Timeline as Image
OnePager Pro Outage Timeline Features
The timeline uses:
Collection of outage events into a single row per server, creating a timeline for each server.
Grouping each server into a swimlane based on its physical NOC location.
Floating time axis with hourly gridlines makes it easy to pinpoint specific events during the outage.
Color coding of the timeline based on each server's performance status (e.g. normal operations, degraded, outage).
Comment boxes call out the timing of server-specific issues that contributed to the overall production outage.
An hourly timeline allows for a detailed analysis of rapidly-occurring server issues.
This server outage incident timeline was created using OnePager Pro, a timeline presentation tool from Chronicle Graphics that uses data exported from Microsoft Project.
To learn more about OnePager, and see how it can help you understand the root cause of production issues such as server outages, get started today by downloading a free trial or attending one of our demonstration webinars.
15-Day
Free Trial