If you think that you have imported a task or milestone from your source file, but cannot find it in your OnePager chart, there are a few ways to ensure that the correct items show up.
Make sure that OnePager is looking at the correct version of your project
The first thing to check is whether OnePager is looking at the correct version of your project plan. With your OnePager chart open, go to Data > Selected Files and double-check that the plan OnePager is using for the chart is the one you expect.
Assuming that the plan name and location look good, you also want to make sure that OnePager is looking at the most up-to-date version of the plan. If your plan comes from Microsoft Project, Smartsheet, or Excel, make sure that you save your project in the host application before pulling data into OnePager. If you are using Project Online or Project Server, you'll want to publish your plan back to the server before sending data to OnePager. Make sure that you actually publish the plan, which is not the same as simply checking it back in.
Finding and Restoring Missing Tasks
If you have followed the steps above and still cannot find a missing task or milestone, then it may be missing for one or more of the following reasons:
The task has been hidden
The task has been de-flagged, and is no longer being imported
The dates of the task do not match the dates of your report, so the task is off the left or right edge.
The row or swimlane containing the task has been hidden.
The task is buried beneath another task on the chart.
The task has been absorbed into another task and is showing as a comment box instead of a task.
The task has been collapsed into a virtual summary task alongside nearby related tasks.
The task data in your source file has been corrupted and needs repair
If you have already refreshed (Data > Replace Snapshot) your OnePager report, and are still not seeing the task in question, go to Home > Show/Hide > Where's My Stuff to have OnePager locate items that are not visible in your chart.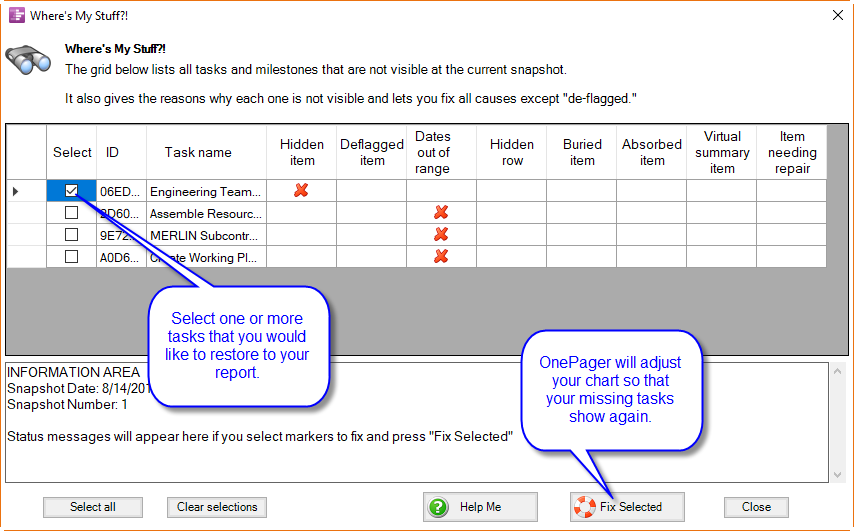 Once you have found the items that you are looking for, select them, and then click the Fix Selected button to bring them back.
For example, if a task is hidden, OnePager will unhide it. If a task's dates are out of range, OnePager will adjust the date range of the report to ensure that the task's dates are visible.

Last Updated: December 9, 2021