To generate a OnePager license key, we need:
Your Order Number, which you receive when you purchase a license.
Your Installation Code, which tells us information about the version of OnePager you have installed and the type of computer you have.
Your E-Mail Address, which is used for support purposes.
---
In other words:
License Key = Order Number + Installation Code + E-Mail Address
---
Your Order Number is not your License Key
Don't confuse your order number with your license key. They are two different things. A license key should look like this: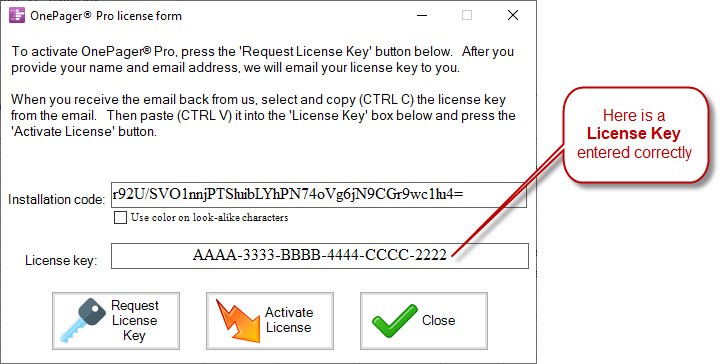 If you try to use your Order Number as a License Key, it won't work:
How to Get a License Key
In order to get a license key, you need to request one from our website. When you successfully request a license key, you should receive an e-mail with your key, like this:
How to Find Your Order Number
When you purchase a OnePager license, we will send you an order confirmation e-mail with your order number, like this:
How to Find Your Installation Code
Your installation code is not generated until after you install OnePager. After installing, launch OnePager for the first time and go to Help > Get Standard License. A licensing screen will appear that contains your installation code, like this:
The installation code is unique to your computer, so when requesting your license key, you need to use the installation code from the computer where you plan to use OnePager. An installation code from a different computer or from a colleague will not work on your computer.

Last Updated: December 27, 2019