Copy and Paste
The simplest way to export your project view to your presentation is to go to the Home tab and select Copy. Your OnePager chart can now be pasted as clipart into PowerPoint, Word, Outlook, or a number of other supported applications.

Save to PowerPoint, PDF, and Image Formats
If you have a multi-page project view, you can export the view to PowerPoint or PDF, complete with page breaks. To do this, go to File > Save As and then click on the Save as type dropdown to select your desired file format: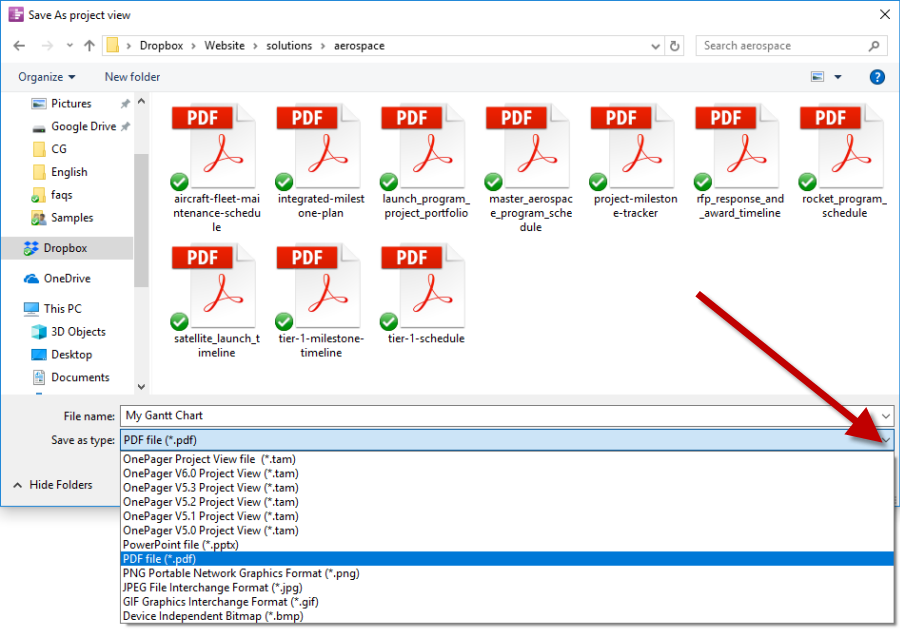 When saving, OnePager will ask you whether you want to save All Pages or the Entire Document: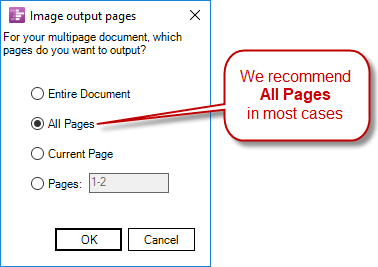 In most cases, we recommend selecting the All Pages, but here is what these two options mean:
Entire Document: Exports your entire document to a single page. In PowerPoint, this means that your chart (no matter how large) will be on a single slide. When saving as PDF, you will get a single-page PDF that fits your entire chart. As a result, this option is really best when you are exporting to an image format such as PNG, not to PDF or to PowerPoint.
All Pages: Exports your OnePager chart, including page breaks. When exporting to PowerPoint, each page of your OnePager timeline will be on its own slide. In PDF, you will have a multi-page document, again corresponding to each page in your chart.

Last Updated: December 27, 2019