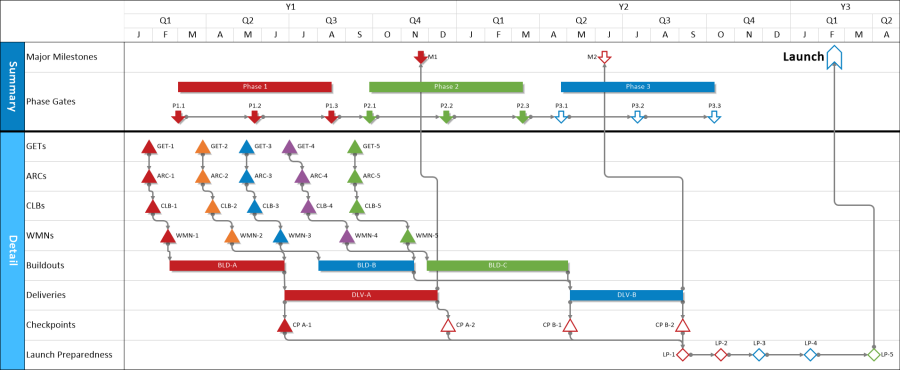 Download Integrated Milestone Plan as PDF

Download Integrated Milestone Plan as Image
Integrated Milestone Plan Features
The milestone plan includes:
Alignment of related milestones left-to-right in a single row
Assignment of different colors based on the type of milestone
Automatic linkage of predecessor and successor milestones to show project dependencies
Hollow shapes for incomplete milestones and solid shapes for completed ones
Grouping of swimlanes first by summary vs. detail tasks, and then by milestone category
This integrated milestone plan was created with OnePager Pro, the easy-to-use timeline and Gantt chart app for Microsoft Project and Project Server.
To learn more about how OnePager can help you build a milestone plan like this, get started today by downloading a free trial.
15-Day
Free Trial
Sample Files
This integrated milestone plan was built using the following files, which you can download if you'd like to create something similar. There is one version for Microsoft Project users, and a second version for Excel users.
For Microsoft Project users:
For Excel users:
Instructions
To build a integrated milestone plan like the example above, follow these instructions:
Download the one set of the sample files for either Microsoft Project or Excel listed above. The Project and Excel files contain the actual schedule, and the OnePager template file has all of the settings that will correctly format the chart. Save both files to your desktop.

Open the Microsoft Project or Excel file.

Once Project or Excel is open, go to Add-Ins and click the OnePager button.

When the start screen appears click NEW to build a new chart.

With the project plan ready for import, we need to change OnePager's default template to the one downloaded above. To do this, click on Change, and then BROWSE FILES to the OnePager template (*.tat) file. This OnePager template contains all of the data-driven formatting (colors, layout, etc.) that give this Integrated Milestone Plan its specific look.
With the template loaded, click on Create New Chart to build your chart. It should closely match the example at the top of this article.
15-Day
Free Trial