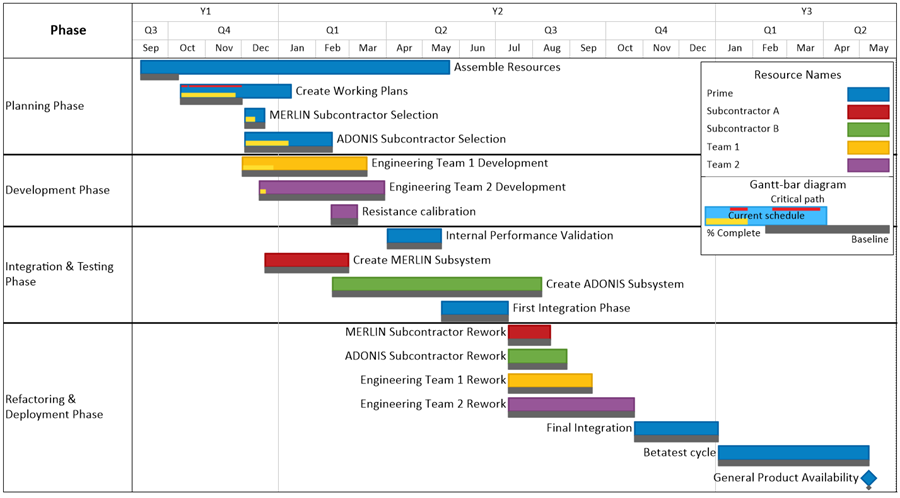 If you don't already have OnePager Pro, you can download a 15-day free trial to see how it works.
Once a Gantt chart template has been created, it is easy to share it with other team members and project managers from other divisions. This article provides a brief explanation on how to take a Gantt chart template you've created and distribute it to others.
Let's assume we have created a OnePager Pro chart with the characteristics we want by building the chart from a Microsoft Project file. Here's a quick refresher on how to build a Gantt chart using OnePager Pro. First, start with your MS Project field and use any flag column to select the tasks you want to include in the Gantt chart:

Next, we create our OnePager Pro chart by double-clicking the OnePager Pro icon on our desktop. From the Start screen that appears, we click New, and choose our Microsoft Project plan as the source file for our OnePager Gantt chart. This brings up the import wizard as shown below:
We've filled in the name of the chart, the "Flag" field we want OnePager Pro to use to control the importing of Microsoft Project file data, and established the first snapshot (status) date.
By clicking on the Create new chart button on the OnePager Pro wizard, we'll create our first chart that will look something like this:

Now, you can make some modifications to your Gantt chart. For example, you could color-code by project phase, change fonts or backgrounds, etc.
Once you like the way your Gantt chart looks, you can turn it into a template for use with future projects. Just go to Home > Save as Template. This will create a template based on the format of your existing Gantt chart.

You will be prompted to save your template to your computer or network. Once you have done so, you can share this template with other people on your team by simply e-mailing them the file, or posting it to your SharePoint site.

On the receiving end, the person wanting to use the new template copies the TAT file into their OnePager Pro Templates directory, which by default is in your file system under Documents > OnePager Pro > Templates. Once copied, the new template is available for use in building new charts.
This article reviewed the process of creating a template from a Microsoft Project file with OnePager Pro, how to export the template for others to use, and how others can import the template for use in their work. OnePager Pro provides an easy and efficient way for multiple users to share templates so that standards can be created, maintained, and used.
Using OnePager Pro will allow you to create dynamic, informative project presentations with the click of a button, and it eliminates the need to rebuild your presentation by hand every time your project schedule changes.
Get started today by downloading a free trial or attending one of our demonstration webinars.
15-Day
Free Trial